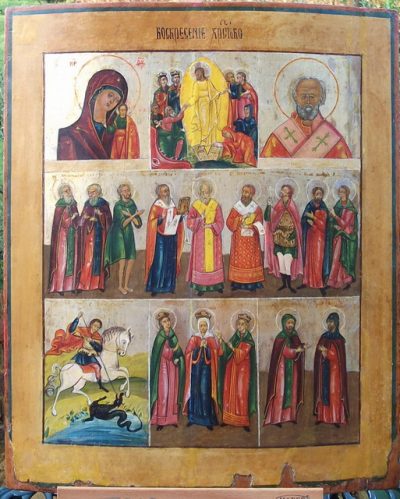 0811 Resurrection
Russian.
Early 19th cent. 53.5×44.5×2 cms.
The first word of the Cyrillic title is "Voskreseniye" meaning "resurrection. However, the purpose of the icon is not to so much to show the resurrection of Christ but as a guide to achieving eternal life.  In short, it is achieved by living within the boundaries of The Church who will protect and fulfil the emotional and physical needs of its congregation through its teaching and the intercession of its Saints.
On the bottom tier, centrally are probably three ladies who accepted the fact of the crucifixion and and its message of Christ's sacrifice for their eternal life. To their right is St George to protect them from dangers physical. On their left Sts Kosmus and Damian, the two unmercenary physicians, will attend to their general medical need. In the second row is The Church itself represented by its its Bishops and saints who ensure their daily lives are conducted in a Christian manner. In the top row is an image of The Virgin of Kazan presenting the Christ Child and offering intercession to all whose needs are personal and spiritual whilst St Nicholas, in the other corner, is the saint to whom to turn when all else has failed.
The discipline of living a Christian life and obeying God's rules as interpreted by Orthodoxy is shown in the centre panel in the top row.  in an act of resurrection for rich and poor Jesus Christ leads Adam from Hell to Heaven to be followed by King David and King Solomon. On His left two female saints bow at His feet.