About Us
Icon Rus is a U.K based Gallery with an international clientele specialising in the sale and restoration of religious icons. Besides the UK,  Icon Rus sells and restorers icons to private clients, religious institutions and museums in North America, Western Europe and Australia. In the Gallery (see below and subsequent pages), there are a large number of icons dating from the late 16th to the first decade of the 20th centuries. These mainly reflect mainstream Orthodoxy in Imperial Russia and Greece but, there are others that reflect Coptic, Melkite, Ethiopian and Old Believer traditions.  
The Studio offers for its own needs and from private commissions, a restoration service where the traditional practices of sensitively restoring icons are employed.  The objective is to balance the demands of restoration with the discipline of conservation. Following tradition, egg tempera paint is applied to a gesso base. Board repair and gilding application are also available.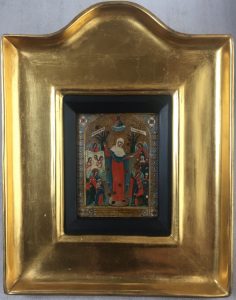 00268 – Virgin of All Who Grieve
Russian 1888-1917 47 x 33cm in gold gilt kiot
£1,750.00
Our Icon Categories
For specific categories of icons, please click on the representative description below.
Tel: + 44 (0)1483 414 435