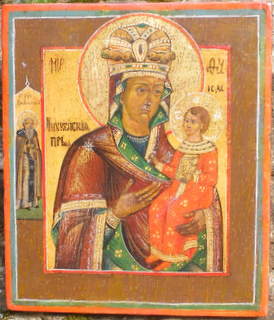 0735 Virgin of Dubovich
Russian.
19th cent. 18x15x2,5 cms.
Another icon that mysteriously was found by a shepherd whilst cutting grass in the mid-16 cent. Examples of this subject, are rare.
The icon was purchased from the estate of an art collector who was also had a great interest in preserving U.S. heritage and was responsible for preserving one of the old quarters of a Colonial town from modern re-development. Since purchase the icon has received only cleaning by way of restoration.
St Sergius of Radonezh has been added in the margin.
Recent Posts
Archives
Categories