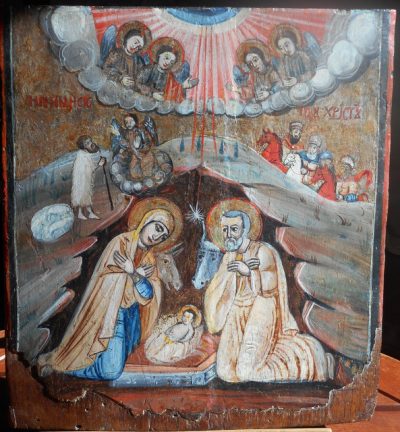 0640 Nativity
Coptic.
17th cent. 26.5x24x2 cms.
An inscription on the reverse of the icon says that the icon was once in "The Church of The Holy Dormition in Cyzicus". This is a Coptic Church situated on the north coast of Turkey that witnessed the martyrdom of St Miron, its Prebyter, on Christmas Day 250. In the 1920's another act of religious intolerance is believed to be the reason for the icon "leaving" the church. The icon's top edge has been shaved probably to allow easier portage during the flight. The icon arrived in Lucerne in Switzerland and carries a metal plate on the reverse "J.Strassle.Luzern". The icon was then taken to the U.S. The icon was purchased from a n American collector.
Typical of icons of its age, the board is bowed. It has also suffered insect infestation and has been broken. The infestations have been treated and the board repaired. To retain the icon's integrity gesso and paint loss on the bottom of the image have not been restored.
Recent Posts
Archives
Categories