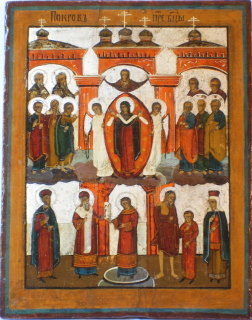 0500 Pocrov
Russian.
Late 18th cent. 37.5×29.5×3 cms.
The Pocrov takes its title from the Russian word for"cloak" or "protection". Its celebratory feast [Oct. 1st] is a remembrance of the eternal protection the Virgin offers to all Christians.
The appearance of churches specifically honouring the Virgin of the Pocrov began to appear in Russia  during the 12th cent. but were commemorating events that took place two centuries earlier. It was witnessed in The Blachernae Palace in Constantinople. Here the dome of the church parted and Mary, accompanied by angels and saints entered to pray for all faithful Christians extending Her cloak over them as a sign of Her protection.
The icon reflects these events.with The Virgin and Her protective veil. Below on the floor of the church stand Andrew-The-Fool and his acolyte St. Epiphanus, both of whom witnessed the event. Immediately below The Virgin stands, on a stylised pulpit St. Romanus the Melodist who, though not a contemporary of the saints, is traditionally shown in "The Pocrov" accompanying in song The Virgin's descent. Next to Romanus is the Patriach Nicholas Tarasios. Emperor Leo and his wife Irena stand in either corner.
The icon is composed of one-and-a half boards that have been split though there is no damage to the icon's front. Both the original mortices are present and there is feint Cyrillic script and sales marks suggesting the original price to have been 4 kopecs.
Bought in the U.K. from a private Russian collector, the icon has been cleaned and gesso stabilised. Where necessary paint loss and gilding have been restored using traditional techniques.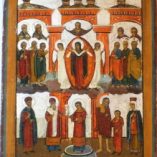 Recent Posts
Archives
Categories