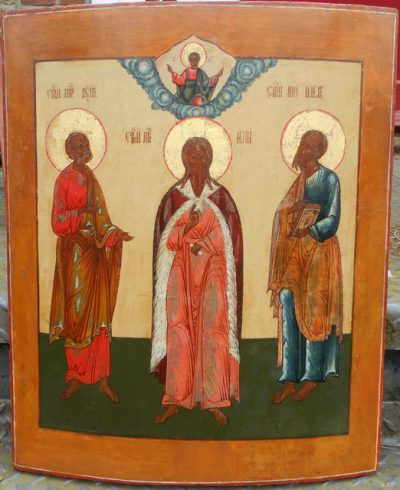 0434 Elijah and Sts Peter and Paul
Russian.
19th cent. 53.5x43x3 cms.
Under a blessing Christ are images of the Prophet Elijah and Sts Peter and Paul. Their message is of a Promise made; a promise witnessed; a promise fulfilled:-
Elijah: told The Children of Israel that God would send them a Messiah to free them from slavery both political and spiritual. Resurrection would be the proof of this mission of love.
St.Peter: In three years of Christ's ministry, witnessed that promise enacted.
St.Paul:  like St Peter, St Paul personally witnessed the love of God but accepted God's love had a wider audience than the Jewish nation alone and its true fulfilment was for mankind as a whole.
.
Recent Posts
Archives
Categories