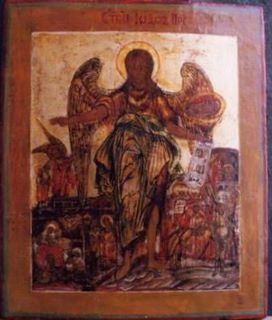 0316 St John The Forerunner with Scenes
Russian.
19th cent. 30.5×25.7×3 cms.
The wings on the image do not mean St John is an angel, they symbolise that he is God's messenger. The message is on the scroll he carries "Repent ye. The kingdom of Heaven is at hand". In that same hand he carries a diskos with an infant symbolising the Lamb of God of the Eucharist.
There are background scenes: his birth, his attendance at the Temple, his mission as shown by Gabriel, his execution by Herod and, finally, the discovery of his buried head.
Recent Posts
Archives
Categories