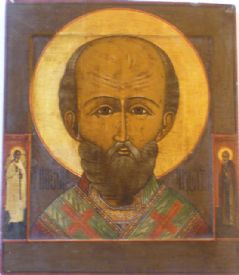 0315 St Nicholas
Russian.
19th cent. 33.5x30x2.5 cms. 
A typical portrait of this very popular Saint. He is shown in close-up to emphasise the intimacy he has with ordinary Russians rich and poor. He wears a Bishop's omophorian about his neck confirming a senior member of the Orthodox Church he is both to be trusted on matters temporal and spiritual. The belief that God had granted him miraculous powers was a firm tenet of society. His defence of Christianity is acknowledged in the icon with the addition of images of an armed St Michael and an unidentified Saint in the margins.
The large board has a shallow kovcheg and two channels cut in the reverse.
Recent Posts
Archives
Categories