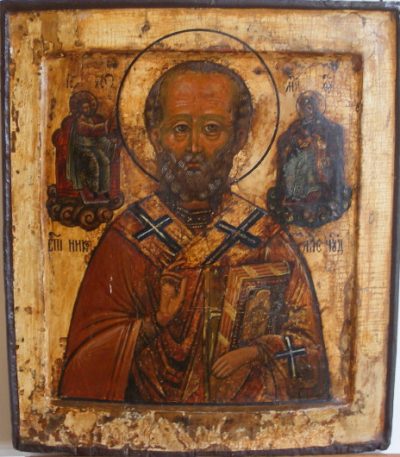 0307 St Nicholas
Russian.
18th cent.31.6x27x2.5 cms.
St. Nicholas, feisty in temper, short in stature, intransigent in his defence of Christianity, an exorcist, a healer, had qualities that were much admired by ordinary Russians. They had a natural empathy with the man who would rise to be Bishop of Myrna and to whom many miracles were attributed often on behalf of the poorer, more exploited, more oppressed members of society. Such was he seen as the ultimate refuge, Russians had a saying "If all else fails, there is always St Nicholas".
He was much loved and with his curly beard, small mouth and large domed forehead, he was easily identified. Often the subject of  small, metal "travelling icons" and with virtually every home with at least one icon of the saint, he was very much part of every day Russian life.
The most popular image of this ever present saint was one as here. Dressed in Bishop's robes, he looks out at the world, a Bible in his hand. When open, it is usually Luke 6:17, a text urging Christians to preach to the world " He [Jesus] went down with them and stood on a level place. A great number of people were there and had come to hear Him" [N.I.V. abridged].
This icon has a thick board and has a double kovcheg. There are two deep batten channels.
The figures to his right and left are Christ and the Virgin. Their presence commemorates an occasion at the Council of Nicea from which he was evicted after assaulting Arius whose opinion of the nature of God was different to that Of St. Nicholas. in his cell, both Christ and The Virgin visited him, freed him and restored his position as Bishop.