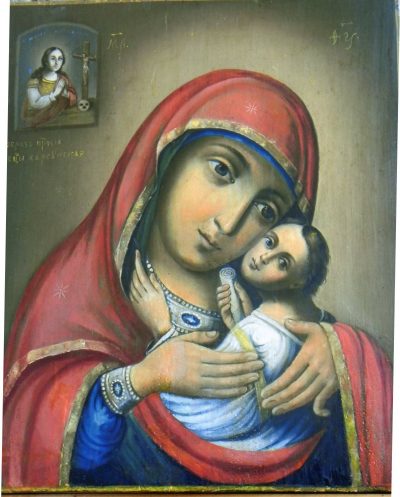 0269 Virgin of Korsun
Russian.
19th cent. 39x33x2.5cms.
Images of the Virgin of Korsun epitomise the group of icons of the Virgin known in Russian as "Oumileinye" ["Tenderness]. They show the intimate relationship between The Virgin and the Christ Child. Mary holds the  infant close to Herself with Jesus in Her arms, their cheeks lovingly touching each other.
But, in the second half of the 19th cent. when the protocols determining how icons should be written were becoming less rigid, the iconographer is trying to convey an additional message. Mary's face is wistful. The reason for Her apprehension is shown in the top left-hand corner. Here there is an image of The Virgin of Aktyr where, with head uncovered, She mourns the crucifixion of Her Son. In doing so, She doubtless remembers the prophecy of St Simeon at Christ's circumcision "This child is destined to cause the failing and rising of many in Israel and to be a sign that will be spoken against ……………… And a sword will pierce your own soul too [Luke2:35].
Recent Posts
Archives
Categories