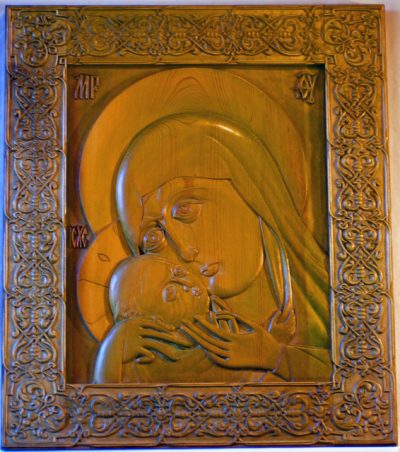 0214 The Virgin of Kasperov
Russian.
1997. 58x50x2 cms.
Iconography broadly divides images of The Virgin into two su-categories. They are the "Hodegetria"[ Greek="Showing the Way"] where The Virgin formally introduces The Christ Child to the world and "Oumileinye" [Russ. = "Tenderness"] which shows a greater intimacy and emotional love between Mother and Son. No greater example of the latter group is The Virgin of Korsun. The Virgin of Kasperov is a very close variant.
Like the Virgin of Korsun, The Virgin of Kasperov portrays only the upper part of the Virgin's body but this icon emphasises the emotion between the two by increasing the close-up. There is no sterness in The Virgin's gaze.  She looks down lovingly at Her Son cuddling him closely with both hands. For His part, Jesus reaches up to clutch tightly to His Mother"s maphorion.A tender and personal relationship that is palpable.
Likenesses of the Kasperovskaya began to appear in the 16th cent.  however it was not until 1640 after the Virgin's intercession to relieve an outbreak of plague in the city, that her miraculous powers were accredited.
This icon was carved in wood in 1997 and signed "P.Shishuk". Shishuk has carved a number altar pieces and icons that decorate churches in the Russian Federation. He has also had exhibitions in Germany and The Netherlands. This icon was purchase direct from his studio in Kazakstan in 1997.
Recent Posts
Archives
Categories