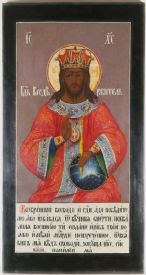 0103 Christ King of Kings

Russian.
19th cent. 90×47.5×2.5 cms.
By virtue of its size and impact undoubtedly a Church icon. It shows Christ as "Pantocrator" – "The Ruler of All". As such the symbols of majesty are shown. He is crowned, magnificently robed in a red silk robe embroidered with gold silk. He carries the royal sceptre  and orb, the latter embellished with stars showing His domain is both of Heaven and Earth.
The inscription in Church Slavonic is the first Kantikon [canticle] of an Akthist hymn to Jesus Christ:-
"Warrior Chieftain and Vanquisher of Hell, I thy creature and servant offer Thee songs of praise, for thou has delivered me from eternal death. But as Thou has unalterable loving kindness, free me from every danger as I cry Jesus, Son of God, have mercy upon me".
Since purchase the icon has been cleaned and restoration undertaken to restore the original composition of the original lines of the iconographer in respect of the crown and the folds of the drapery.
.
Recent Posts
Archives
Categories