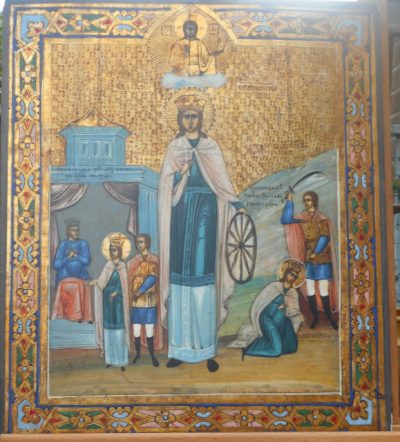 0432 St Catherine
Russian.
19th cent. 31x26x5 cms.
St Catherine was born in Cyprus although she lived for the most part in Alexandria. In a dream she was visited by Christ who gave her a ring as a sign of divine betrothal. She was martyred by de-capitation during the reign of Emperor Maxentius after being torured on a spiked wheel. .
In Russia veneration of St. Catherine began its popularity in the 15th cent. and blossomed thereafter.  The icon 0432 shows the Saint standing beneath an image of Christ Pantocrator holding her unique symbol of a wheel. In subsidiary scenes she is shown being examined by the Emperor and her execution. The icon has a mosaic border typical of the mid-19th cent.