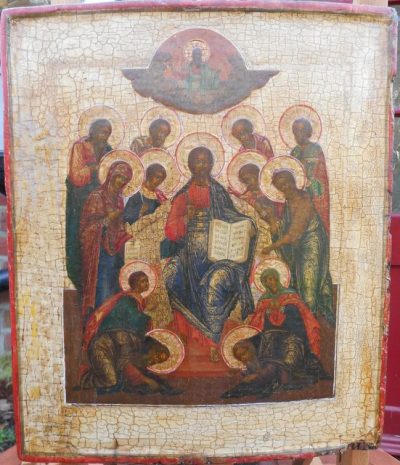 0120 Deisis
Russian.
18th cent. 32×27,5×3 cms.
This icon joins two concepts within Russian iconography. The central image is Christ enthroned with The Virgin and St John the Baptist interceding acting as intercessors for mankind.
To this central theme, undoubtedly at the request of the commissioners who may have come from Smolensk as the icon includes many supporting images that are characteristics of "The Saviour of Smolensk". Prostrating themselves at the foot of the dias are Sergius Of Radonezh and St. Vaarlam Khutuinskiy. Behind them, kneeling in prayer are the martyrs Tsarvich Dimitriyand, probably, St Anastasia. In the back row on Christ's right are Sts Peter and Paul. The two on the left could be the other two Apostles, Matthew and Mark.
The icon has a shallow kovcheg. The board is bowed and has two deep channels to accommodate battens neither of which are present.
The icon was bought from the estate of an art collector who was, as well deeply interested in preserving the character of Colonial towns.